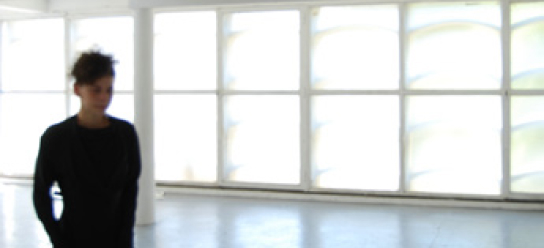 abouav.jenny@gmail.com
Je travaille sur la relation entre la sculpture et le vivant. Ma pratique artistique privilégie la performance, l'installation et l'image photographique et vidéo. Elle questionne les aspects poétiques et politiques de résistance présents dans la lenteur, le vide, le silence et le tremblement. Je déploie des ambiances en faisant dialoguer la lumière, la sculpture, le son et le corps. Les notions d'haptique, de proprioception et de synesthésie s'entremêlent et se répondent.
Mes champs de recherches et d'expérimentations interrogent les dimensions philosophiques de la peau et de l'écoute pour rendre visible la résonance poreuse entre le corps, l'acoustique et l'ambiance d'un espace naturel ou architectural. La frontière entre l'organique, le mécanique et le numérique s'estompe et se brouille.
La peau comme un outil de création et un matériau sculptural. Il s'agit d'explorer et travailler avec l'interface de l'épiderme : lieu de convergence entre l'intérieur et l'extérieur. La résonance de tous ces lieux que l'on porte en nous et qui nous portent, nous habitent, nous font fantasmer. La surface de la terre et celle de la peau, nos pellicules fines qui se frôlent.
Mystérieux, ce pourrait être le mot qui colore les œuvres de Jenny Abouav. Cette jeune artiste reste à l'ombre de ses créations tout en les portant avec sa présence. Son geste performatif s'affirme à l'aide de diverses stratégies de camouflage. Celles-ci deviennent des éléments clés dans ses performances. Jenny Abouav dissimule le corps humain et le transforme en sculpture. Elle dévoile son potentiel mécanique et déterminé, que ce soit dans les mouvements, la voix ou le souffle. On pourrait parler d'une robotisation, ce qui expliquerait peut-être son attirance pour les insectes, êtres à coques durs, graphiques et articulés d'une manière précise. Pour mettre en forme ces hybrides, Jenny Abouav se sert du corps, de la sculpture, de la lumière et du son. Ce dernier prend souvent une place particulière dans la pénombre, elle le sculpte comme un matériau en détournant des bruits quotidiens, corporels ou encore venant de la manipulation de ses volumes. Le travail de Jenny Abouav incite celui qui regarde à voir avec ses oreilles, d'entendre la lumière et de sentir les matériaux.
Maria Landgraf, artiste et curatrice, 2018
My artistic practice focuses on performance and installation. It questions the poetic and political aspects of resistance present in slowness, emptiness, silence and trembling. I deploy ambiances that I activate by making dialogue between the body, the sound, the light and the sculpture. My fields of research and experimentation question the philosophical dimensions of skin and listening to make visible the porous resonance between the body, the acoustics and the atmosphere of a space. I explore the photographic and video image to question the immobility of the image and its possibilities. The notions of haptics, proprioception and synesthesia intermingle and respond to each other.
I work in particular with the interface of the epidermis: place of convergence between the interior and the exterior. The resonance of all these places that we carry within us and that carry us, inhabit us, make us fantasize. The surface of the earth and that of the skin, our thin films that brush against each other.
Mysterious could be the word which tints Jenny Abouav's works. This young artist remains in the shade of its creations while bearing its with her presence. Her performative gesture asserts itself thanks to varied camouflage strategies. Then, these strategies are becoming key-elements in her performances. Jenny Abouav conceals the hu- man body and turns it into a sculpture. She reveals her determined and mechanical potential, wether it deals with her movements, her voice or her breath. We could talk about robotization which may explain her appeal for insects, hard-shelled beings, graphic and neatly articulated in a specific way. In order to shape these hybrids, Jenny Abouav uses the body, sculpture, lighting and the sound. The sound often takes a very special place in the twilight, she carves it like a raw material diverting ubiquitous sounds, bodily habits or handling volume. Jenny Abouav's work encourages the one who look to look with his ears, to hear the lighting and to feel materials.
Maria Landgraf, artist and curator, 2018
Née à L'Isle d'Espagnac en 1991
Vit et travaille à Marseille
Born in L'Isle d'Espagnac in 1991
Live and works in Marseille
2021
Résidence de production de 4 mois à Hangar en partenariat avec l'Institut FR de Barcelona et la Casa de Velázquez ESP
INACT Festival des arts mutants, Strasbourg FR
RIGA Performance Festival, Riga, Lettonie
Résidence de recherche à SOMA, Lieu d'art hybride, Marseille FR
Bourse TRAVERSÉES, CIPAC, FRAAP, réseau DIAGONAL
Publication D'EXCENTRICITÉ(S), 10 ans de rencontres de la performance, page 568, Paon Diffusion, 20x14x4 cm, 732 p
Création espace sonore [live] pour Parking, RIFT, Lieux Publics, Théâtre des Salins - Théâtre National de Martigues FR
2020
Festival SONOPTIC, Mix'art Myrys, Toulouse FR
Création sonore pour DÉRIVES de RIFT, collaboration avec le groupe solidaire de Migrants LGBTQ, La Vieille Charité, Manifesta Biennal, Marseille FR
Performance pour Fake_book de Victor del (M)Oral, exposition
Allochronotopie, La compagnie, Manifesta Biennal, Marseille FR
Performance au Chateau La Coste, Tikka radio, Le Puy-Sainte-Réparade
Secours exceptionnel, CNAP
2019
ATM Festival, Oil Tank Culture Park, Séoul, Corée du Sud
Festival Technomancie2, Le couvent Levat, Marseille FR
FRASQ, rencontre de la performance, Nuit blanche avec Cyril Leclerc,
Le Générateur, Gentilly FR
The Hoochie Coochie CIRCUS #5, La Génerale Nord-Est, Paris FR
Crossing performance, Festival international de la performance, Galerie Holesovicka Sachta, Prague, République Tchèque
Discussion avec la curatrice Constance Meffre à l'occasion du festival Crossing performance, à la Galerie Holesovicka Sachta à Prague Consulter ICI
Excentricité X, festival des rencontres internationales de la performance, Besançon FR
Exposition La Relève & performance au vernissage, Festival Parallèle, Galerie Art-cade des Grands Bains Douches, Galerie HO, Marseille FR
2018
DNSEP mention Intention-Ambition de l'espace, option Art Temps
Réel, École Supérieure d'Art d'Aix-en-Provence FR
2018
Exposition des diplômés, École supérieure d'art d'Aix-en-Provence FR
Texte de l'artiste et curatrice Maria Landgraf dans le cadre du festival Courts-Circuits à Chambéry FR
Courts-Circuits, Festival de performance, maison de Jean-Jacques Rousseau, Chambéry FR
2017
Lauréate de la Compétition de l'Image de recherche 2017, Université
d'Alberta, dans le cadre du doctorat de Camille Renarhd, CA
Hortus 2.0 acte 2 & performance au vernissage, Le Grenier à sel, EDIS fond de dotation, Avignon FR
Voyons Voir, Printemps de l'art contemporain [PAC], Pavillon de Vendôme, Aix-en-Provence FR
Exposition collective Destinerrances & performance au vernissage, Mac Arteum, Châteauneuf-le Rouge FR
Se déplacer, habiter, se nourrir, Restitution de workshop, Grilo, Lisbonne Portugal
2016
Baccalauréat en Communication profil Médias Interactifs, mention d'honneur École des médias, Université du Québec à Montréal, QC CA
2016
Collaboration artistique & sonore avec Camille Renarhd à Camp d'entraînement artistique Simone, Chateauvillain FR
Scénographie et sculpture pour Aura, traversée immersive, Montréal en lumière, Nuit Blanche, Place Pasteur, UQAM Montréal, QC CA
2015
Collaboration sonore & artistique avec Camille Renarhd pour l'exposition OTIUM #1 De Mineralis, pierres de visions, Institut d'Art
Contemporain, 2012, Villeurbanne FR
Lauréate du concours Bourse Sennheiser Canada en création sonore et nouveaux médias, Montréal QC CA
2013
Résidence de recherche avec le Collectif Termostat à Eastern Bloc, Nouveaux Médias & art interdisciplinaires, Montréal QC CA
2012
Licence en Études Cinématographiques et Audiovisuelles mention Bien, Université Michel Montaigne, Bordeaux 3 FR
2012
Conférence Wi-Find a Data Space ! ou le détournement du micro, Colloque International Pionniers-innovation-création-média, UQAM, Montréal QC CA
Table ronde sur l'exposition Variance avec Dominique Moulon, Biennale Internationnale d'Art Numérique, Elektra Maison de la culture Frontenac, Montréal QC CA
Exposition collective Variance, Elektra - Biennale internationale d'art numérique, Maison de la culture Frontenac, avec le Collectif Thermostat, Montréal QC CA
Exposition collective Empreinte sur la main, Boulevard ST Laurent, avec le Collectif Thermostat, Nuit Blanche, Montréal QC CA
2012
Échange CREPUQ 12 mois en 1er cycle d'Art Visuels et Médiatiques profil artistique, Université du Québec à Montréal, QC CA
2009
9ème Escales Documentaires : Festival Internationnal du film documentaire, Catégorie Vitrine locale, La Rochelle FR
2021
4-month production residency at Hangar in collaboration with the Institut FR of Barcelona and the Casa de Velázquez
INACT, Performance Arts Festival, Strasbourg FR
RIGA Performance Festival, Riga, Latvia
Research residency at SOMA, Space of hybride art, Marseille FR
TRAVERSÉES Grant, CIPAC, FRAAP, DIAGONAL network FR
PUBLICATION D'EXCENTRICITÉ(S), 10 ans de rencontres de la performance, page 568, Paon Diffusion, 20x14x4 cm, 732 p
Creation of sound space [live] for Parking, RIFT, Lieux Publics, Théâtre des Salins - Théâtre National de Martigues FR
2020
SONOPTIC Festival, Mix'art Myrys, Toulouse FR
Sound creation for DÉRIVES of RIFT, collaboration with solidarity group of migrants LGBTQ, La Vieille Charité, Manifesta Biennal, Marseille FR
Performance for Fake_book of Victor del (M)Oral, exhibition
Allochronotopie, La compagnie, Manifesta Biennal, Marseille FR
Performance at Château La Coste, Tikka radio, Le Puy-Sainte-Réparade FR
Exceptional rescue, CNAP FR
2019
ATM Festival, Oil Tank Culture Park, Seoul, South Korea
Technomancie2 Festival, Le couvent Levat, Marseille FR
FRASQ, meeting of performance, White Night with Cyril Leclerc, Le
Générateur, Gentilly FR
The Hoochie Coochie CIRCUS #5, La Génerale Nord-Est, Paris FR
Crossing performance, International Performance Festival, Gallery Holesovicka Sachta, Prague, Czech Republic
Discussion with the curator Constance Meffre on the occasion of the Crossing Performance Festival at the Holesovicka Sachta Gallery in Prague, Czech Republic See Here
Excentricité X, Meeting International Festival of performance, Besançon, FR
Exhibition La Relève, Festival Parallèle, Art-cade Gallery of Grands Bains douches de la Plaine, Galerie HO, Marseille FR
2018
DNSEP mention Intention-Ambition of the space, real time art option,
Superior school of art of Aix-en-Provence FR
Graduate exhibition, Superior school of art of Aix-en-Provence FR
Text by the artist and curator Maria Landgraf for the festival Courts-Circuits in Chambéry FR
Courts-Circuits, Performance Festival, House of Jean-Jacques Rousseau, Chambéry FR
2017
Winner of the 2017 Research Image Competition, University of Alberta, for the PhD of Camille Renarhd, CA
Exhibition Hortus 2.0 acte 2 & performance au vernissage at Le Grenier à sel, EDIS fond de dotation, Avignon FR
Voyons Voir, for the Spring of Contemporary art [PAC] at Pavillon de Vendôme, Aix-en-Provence FR
Group exhibition Destinerrances at Mac Arteum, Châteauneuf-le Rouge FR
Performance during "Se déplacer, habiter, se nourrir", workshop restitution, Grilo, Lisbonne, Portugal
2016
Bachelor's degree in Communication profile Interactive media, mention of honour, School of media, University of Quebec in Montreal UQAM, QC CA